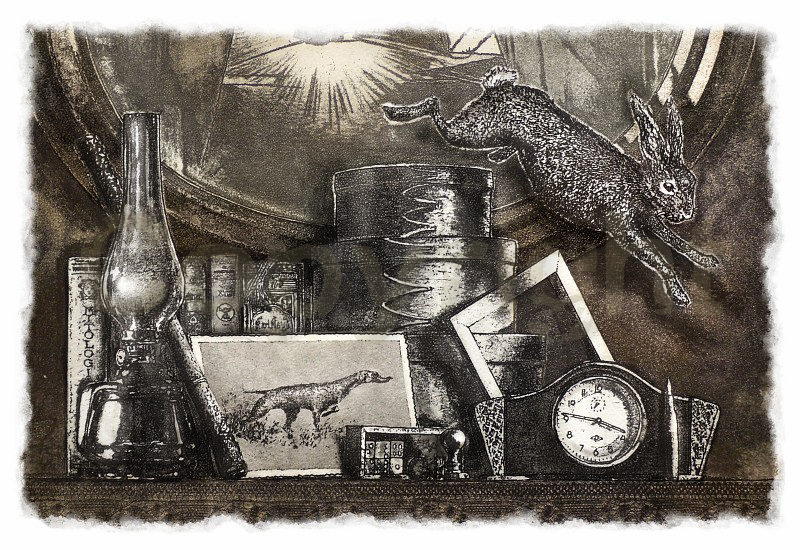 Architect. Born in 1960.
He followed the expressive necessity in different fields: graphics, literature, photography.
His gravures (acqueforti, acquetinte, vernis-mou) are imprompted to a fantastic realism with a lot of literary suggestions
(from Poe to Buzzati, from Savinio to Borges), and have been exposed in some personal and collective shows
They will be used in the successive project of

Port Rebųs

.

In

Variazioni per la mano sinistra (
1996)
-
images are presented
side by side
to unusual stories :
Sabbia in soffitta (Sand in the attic) - Esse est percipi - Il diavolo in valigia (The Devil in the suitcase) -
Il V° postulato di Euclide, and

others.
From
the suffused atmospheres
of these stories started the idea to combine writing
with photographs.
In the selection of poetry

Tram di Suez

(
1999)
, verses are mixed with B/W shots.
In 2000 was
published
the novel

Il Farmacista di Ampurdān (The Chemist of Ampurdān

), a metaphysical plot suspended
among history of art and philosophy
( the subject it's the hidden meaning of a painting of Salvador Dalė ).
In 2001 follows

La Congettura Goldbach (The Goldbach conjecture)

, a collection of stories not exactly of genre.
In this period starts the photographic interest around abandoned places and ruins.
From a collection of shots about this theme, was born the thematic site

Lost and Least (www.lost-least.it)

,
realized and improved with different photographic subjects.

A brief collection of verses

Denti stretti (Tightened Teeth)

still followed.
Always on the road of contaminations, passages and shreds of this works have become part of a
photographic project focused on the theme of the decay of old buildings, as a sign of human interior decline :
Soul Ruins

, which first unit was proposed to the Photographic Contest Fnac in 2010.

The selection proposed to Manege Expo 2011 in St.Petersburg
collect shots about this way of using the camera: to

focus outside for looking inside

,
to get a glimpse on what we usually don't see, maybe we don't want to see at all.

After

Lift to Atlantis

(2013) went off:
Ville des Ombres : extemporary visions around Turin, then


Dentro

, a trip in the unusual architecture of a disused penitentiary,


Tre secondi

, a selection in which the observer must ask to himself the real meaning
of images
.


Port Rebųs

, where the camera is used to fall deeply inside the details of gravures & acquetinte.

The last

A Nord de Rién

(2016), is the attempt to find the uncorrupted elegance of beauty
also in the devastation of abandoned ruins.

______________________________

Publications:
- Il Farmacista di Ampurdān - alla ricerca assolutamente di niente.
[ The Chemist of Ampurdān - in search absolutely of nothing ] - Ed. Firenze Libri - Firenze (2000)
- Certi trascurabili dettagli.
[Some negligible details ] - Ed. Il Quadrato - Chieri (2001)
- Variazioni per la mano sinistra [Variations for the left hand ]
- Il V° postulato di Euclide [The V° postulate of Euclide ]
- Il Disordine [The Disorder ]
- Il Catalogo [ Der Bestand ]
- Ingrid (questione di un istante ) [ Ingrid (matter of an instant) ]
in the Anthologies of Fairy Morgana (2002-2003-2004-2005) – Ed. CS Libri - Turin.
- Soul Ruins ( Traces for a map of the Invisible ) - 2012 (Photobook)
- Lift to Atlantis ( on the route of the Invisible ) - 2013 (Photobook)

- Ville des Ombres - 2013 (Photobook)
- Dentro - 2013 (Photobook)
- 3" Tresecondi - 2014 (Photobook)
- Port Rebųs - 2015 (Gravures & Photos)
- A Nord de Rién - 2016 (Photobook)
_______________________________
Exibitions:
- Manege Expo in St.Petersburg (2011)
- Paratissima - Turin 2011
- MIAF Milan Image Art Fair - with PhotoLTD - Milan 2012
- IoEspongo – Turin 2013
- 57 silenzi – Ki-Gallery – Turin 2013
_______________________________
Web :

www.c-reger.eu
_______________________________
The Photos shown in these galleries are a selection from the edited projects.
The single images are copyrighted by the author : c. reger Š2011-17.
The images are printed on Felix Schoeller Ivory Matte paper in limited edition ,
numbered and signed by the author. Sold on demand.
Le fotografie raccolte in questo volume sono tratte dai progetti indicati e
proprietā dell'autore: c. reger Š2011-17.
Sono stampate su carta Felix Schoeller Ivory Matte in tiratura limitata
in base ai formati, numerate e firmate a mano dall'autore.
Sono acquistabili su richiesta:

contact / e-mail: go.lem@alice.it

_____________________________________
All images and contents of this site are covered by copyright .